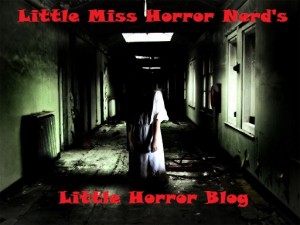 I know I am little late to the party but I just watched The Devil's Rejects this week for the first time. This film was written and directed by Rob Zombie and released in 2005.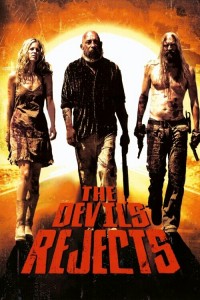 The first time I attempted to watch this film, I turned it off half way through. I remember feeling it was just too brutal for my taste. I am glad I gave it another chance. It has now become my favorite Rob Zombie film over Halloween 2007. This film follows the same characters from House of 1000 Corpses who are now being hunted by the brother of the Sheriff  they killed in that film.
Baby and Otis are on the run from Sheriff Wydell. Mama Firefly has been arrested after a shoot out between the Firefly clan and the Sheriff's men. A big difference between House of 1000 Corpses and The Devil's Rejects is that the latter takes itself a little more seriously but still has humor. The former was much more comical and cartoonish and trippy. Bunny scene anyone? As a result of the change in tone, violence in The Devil's Rejects had a more disturbing impact.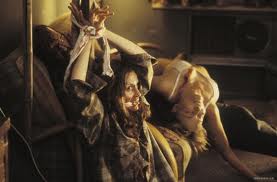 When it comes to horror movies, the murders I cringe at the most are bludgeonings. Those seem to be some of Rob Zombie's favorite sorts as so far someone has died that way in all of his films. Although I'm not sure on Lords of Salem. I haven't seen that yet. They are never quick either. To his credit, he usually leaves something to the imagination with the victim's post murder condition.
I enjoyed the colorful characters — Captain Spaulding being my favorite. These were murderers you could love, hate, or love to hate including Sheriff Wydell who was exploiting his position and operating outside of the law. There was no black and white with these characters. As far as the level of brutality and violence, I would compare it to the remake of Texas Chainsaw Massacre. I was definitely disgusted and cringed quite a few times.
This film also reminded me of TCM 1974. Perhaps had it been made in 1974 it would have had the creepiness that film had. Sadly, in this day and age horror films rely heavily on violence and gore. As we all know, sometimes what you don't see is scarier than what you do.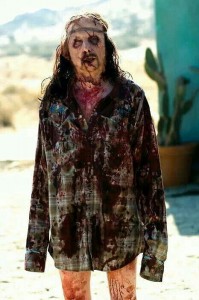 Finally, the soundtrack to this film is "to die for." While it may not have been a perfect period piece it was pretty close and the music really helped. If you love horror films and for some reason have not seen this movie — rent it tonight! I found it fun, cringe worthy, disturbing and at times hilarious (thank you Sid Haig) Oh and I think I am in love …with William Forsythe!
Please make more movies like this Mr. Zombie!
LITTLE MISS HORROR NERD'S RATING: 5 out of 5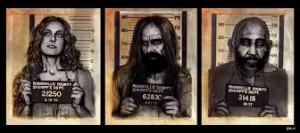 Now for some trivia kids:
— Priscilla Barnes played the mother (Gloria) of the family Baby and Otis take hostage. She is murdered by Baby when she throws a knife at her. Priscilla played Terri Alden on Three's Company from 1981-1984. I did not recognize her until after the movie was over.
— Karen Black did not return to her role as Mama Firefly because this film had a much smaller budget than House of 1000 Corpses. Karen demanded a higher salary to reprise her role so Leslie Easterbrook was cast.
— Natasha Lyonne was originally cast as Candy and then replaced with Elizabeth Daily.
— Sid Haig will be 75 this year. Say WHAT?! He isn't the best looking guy but I would have guessed 55.
— It really is a small world after all! I met Matthew McGrory (Tiny Firefly) years ago and didn't realize it until I watched this film. Before he moved to California, he worked at a bar I used to frequent in West Chester, PA. Sadly, he passed away in 2005.