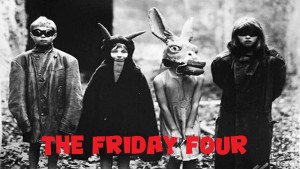 To say that Stephen King is the "King of Horror" is both the easy way out and the understatement of the century.  Though King has proved his worth in drama (Rita Hayworth and the Shawshank Redemption), coming of age (The Body), mystery (Joyland) and even detective fiction (The Mr. Mercedes trilogy), he will always be known as the horror guy.  Is that such a bad thing?
For maniacs like myself (and I'm guessing you, dear reader) King wrote the background of my life, spoiling me to the point where it became difficult to read other authors for awhile.  For my money, King is the greatest American writer (sorry Poe, Hawthorne and Twain).
King also represents money to Hollywood.  These days, studios are in bidding wars for his work before it's even published. His work has been represented in everything from movies to TV movies to TV series to movie anthologies to TV series that are anthologies of his short work!  King has done it all.
With The Dark Tower and IT hitting theaters this summer combined with Gerald's Game coming to a streaming service near you, there aren't a whole lot of King works left in the bag that haven't seen the big screen. Admitted, King works have a (unfair) reputation of not turning out so well on the big screen, but that hasn't stopped Hollywood from adapting everything from his opus to his grocery list.
For you, I combed through the King bibliography to find you four novels that as of this writing have yet to be turned into movies, TV shows or services streamed directly into your head.  I know there have been discussions on a couple of these selections, but if they are not either here or coming soon, I counted them eligible for the list.  What's not eligible for the list? Short Stories, novellas and the like. I only counted novels (trust me, you can count the number of non-adapted King novels with your fingers only).  It should also be mentioned that I haven't caught up to King yet with my reading — many of his late works I have not read, so they don't appear on the list.
Without further adieu, I give to you…
FOUR STEPHEN KING NOVELS THAT SHOULD BE ADAPTED AS MOVIES
1. The Talisman (1984)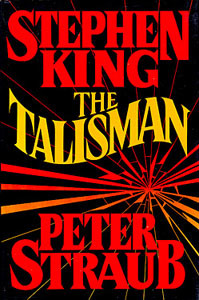 In all fairness, King wrote this with his good buddy Peter Straub. Maybe Straub is holding him back?
The book is very Dark Tower-ish even before it's sequel, Black House, firmly puts it The Dark Tower storyline.  Jack Sawyer crosses the country in search of a talisman that can save his mom.  While on his journey he jumps between reality and another world very similar but not quite his reality.  Not exactly a gunslinger looking for a tower, but you can see the similarities.
Why this has never been made into a feature film is beyond me.  I know there has been lots of interest.  Universal and Stephen Spielberg were attached the moment the book came out.  At one point, the story was written into a miniseries by Mick Garris, but nothing has ever come of these attempts to bring the book to the screen, be it little or big. You would think a collaborative story from two of the best horror writers of their time would be of more importance than to get stuck in Production Hell, but Hollywood never ceases to amaze.
Perhaps it's the book's ties to The Dark Tower that scares Hollywood. Focusing on just the first book, one could easily ignore those tie-ins. Then again, they manage to royally fuck The Dark Tower up, so maybe it's better is this book just remains on this list.
2. Eyes of the Dragon (1987)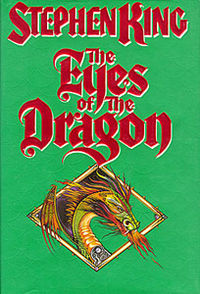 Again, we get a book that ties into The Dark Tower. I'm beginning to see a pattern.
Written for his daughter Naomi, who didn't like his horror writing, this is a tale of pure fantasy.  In this story Flagg (recognize that name?) is a court magician for King Roland who tries to overtake the kingdom by controlling Roland's youngest son after having caused the deaths of Roland and his wife and imprisoning the oldest son. It's an old time fairy tale of a story, but one that fits right in with the tales woven into The Dark Tower saga.  So much, in fact, that they not only share an antagonist, but characters from Eyes of the Dragon are mentioned in passing in The Dark Tower II: The Drawing of the Three.
Like The Talisman before it, Eyes of the Dragon hasn't entirely escaped the attention of Hollywood.  In the early 2000s, The Eyes of the Dragon was set to become an animated film.  That never happened.  Then the SYFY Channel went so far as to announce that they were developing the book for a film back in 2012.  That never happened.
Call it The Dark Tower curse, if you will — but like The Talisman, this could easily be adapted without mention of The Dark Tower.  Aren't we overdue for an epic PG fantasy movie along the lines of Labyrinth, The Dark Crystal or Legend?  Disney, where you at on this one?
3. Insomnia (1994)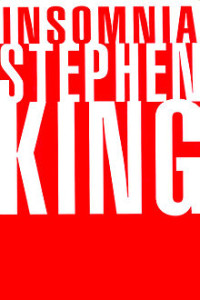 We can officially start a conspiracy theory now. Not only does Insomnia tie into The Dark Tower, but the book is actually given to Roland in the seventh book (eighth if you're counting Wind Through the Keyhole).
Insomnia takes place in Derry (and yes, there are hints of weird things going on in the sewer — Mike Hanlon even makes a cameo) and is the story of Ralph Roberts, an old man who can't sleep. This gives him the power to see versions of the Fates and delve deep into a political assassination attempt that would have also killed a young boy who is of utmost importance to Roland in his quest for the Dark Tower.  Now, when this young boy shows up in book seven, does it feel forced and like King had to find a way to use him because of the events of Insomnia?  Sure, but that shouldn't hurt an Insomnia movie.
Like the others, this one has been in Developmental Hell for a long time, probably never to see the light of day. It's least likely of the ones mentioned on this list if only because no one cares about old peoples' sleeping patterns. It can be self contained, though some of the references to The Dark Tower would probably need to be wiped out and we'd have to find another reason this boy was so important to the world. That is assuming they don't start a Stephen King cinematic universe (an idea I had long before this comic book thing hit big).
4. The Regulators (1996)
First off, I realize this was a Richard Bachman title, but come on, it's still Stephen King.  We all watched The Running Man and Thinner like they were King books.  I will admit Bachman is a bit more brutal and not so fond of the happy ending as King is.
This is the sister book to Desperation which received a made for TV movie treatment in 2006 on ABC that wasn't terrible. So why not Regulators?  Regulators is a little more brutal than Desperation, but would look find on the screen.  The entirety of the story takes place in Suburban Ohio where figments of an autistic boy's imagination hold an entire neighborhood hostage.  Most of them won't get out alive. Like any King story, there are some things that would need to be edited, but overall, it would make a fine addition to the King movie library. For all the wolves attacking King's works, this one has remained untouched.  It's not even in Developmental Hell.
If you want to add to the conspiracy, there are a few hints here and there that both Desperation and The Regulators tie in to The Dark Tower some how.  They aren't as blatant as the other three on this list, but you could make a case for them if you really wanted to. This story should probably be purchased for movie rights (if it hasn't been done already) before they take another King short story and stretch it so much that it hardly resembles the story it started out as.