Podcast: Play in new window | Download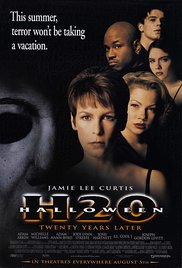 It's twenty years later and suprise — Laurie Strode is anything but dead!  In fact, she's cut her hair, had a son and is now the head mistress at a California private school.  What's Michael Myers been doing for the last twenty years?  Plotting revenge on his sister of course! Join Ron, Little Miss Horror Nerd and special guest host Bloody Brodie as they make their way through twenty years of the Halloween franchise discussing which continuity should be followed, how the middle movies of the franchise were almost incorporated into this movie, why Jamie Lee Curtis came back to the franchise and the possibility that this Michael Myers is actually a copycat killer.
HORROR NEWS: Count Chocula wins the monster cereal vote, cast of Stranger Things 2, Slenderman documentary
Check out more from Bloody Brodie at dreadfulreviews.com!!