Podcast: Play in new window | Download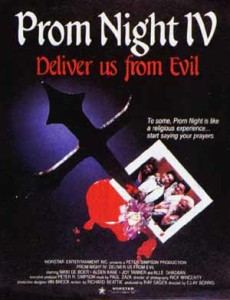 What does Mary Lou Maroney think of teenagers avoiding the Hamilton High School prom?  We will never know because she is not in this film!  In her place is a possessed priest who shoot fire from his hands.  No, really.  That's got to be just as good as a ghost slut, right?  There's only one way to find out — join Ron, Little Miss Horror Nerd and the last of the mystery guest hosts as they make their way through the final movie in the Prom Night franchise!
HORROR NEWS: 
SPOILER ALERT!!!!
Below is the identity of the mystery guest….
CHANNY DREADFUL!
Check out Channy on Twitter!