Podcast: Play in new window | Download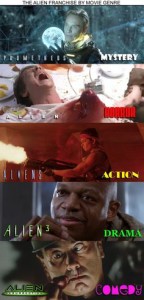 It's time to say goodbye to our friends from the Alien franchise.  No more Ripley.  No more Xenomorphs.  No more androids.  Celebrate the podcast's 150th episode with Ron, Little Miss Horror Nerd and "Wildman" Willis Wheeler as they talk all things Alien including what they expect from the new films, the Top Five Deaths of the franchise, picking teams to face off against the Xenomorphs, Prometheus's strange marketing campaign, superheroes who have faced off with the Xenomorphs and ranking the androids!
HORROR NEWS: Fright Night documentary kickstarter, Paranormal Activity video game, game show, Hellevator
To check out the Fright Night documentary kickstarter project, click here!
You can see more of "Wildman" Willis Wheeler at…
And subscribe to his Youtube channel!!!
From the Alien portion of The Great Movie Ride at Walt Disney World