THE FOAM THE SILLY CRAZY FOAM!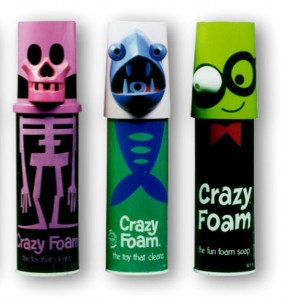 I LOVED Crazy Foam as a kid! This stuff was KILLER – You couldn't beat it! You could make gigantic foam monsters and beards and pictures and some of the cans were also monster related. I'd make the biggest mess with this stuff, but I didn't care LOL! The foam was so amazing and FUN! The foam squirted out of their mouths and there was nothing like having these awesome characters throw up foam in your tub!

American Aerosol Corporation created Crazy Foam in the 1960s and it sold throughout the 60s, 70s and 80s! You know you have a pretty powerful product on your hands if a kid chooses soap over a toy, although i'm sure I begged for a monster toy to go with the purchase.
I always got some Crazy Foam because it made bath time, sharks and Aquaman so much better, and it didn't hurt too much to get a monster looking can as well.
Crazy Foam and Silly Soap were making bath time fun for all kids. Getting us kids clean while actually having fun in the bath was a priority when I was a kid, and all my friends had the stuff too! Crazy Foam kind of smelled close to shaving cream and us kids had a mega-blast by spraying the foam soap all over themselves and all over everything! My bathroom looked insane after I got done with it but it kept me super entertained!
Devil Horns up for CRAZY FOAM!