MTC Nightmare Warriors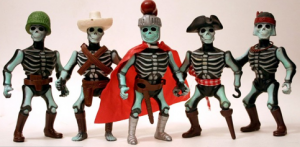 Another KILLER set of monster (Skeleton) figures from Multi-Toys Corporation.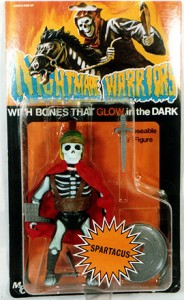 Released in 1983, these 5 1/2-inch skeleton figures featured glow-in-the-dark bones painted on He-Man-styled bodies. The toys represented the ghosts of historic warriors – Spartacus, Geronimo, Sir Lancelot, Captain Kidd, Pancho Villa and soldier Major Bones…. and they glow in the dark, My Fave! So cheesy but so cool. I LOVE Extra Cheese!
I've had a deep love for everything skeleton ever since the first time I saw the Ray Harryhausen ones on Jason and the Argonauts. The Nightmare Warriors aren't exactly like the Ray Harryhausen-esque ones but they still create pure bliss!
SKELETONS RULE! Glowing Skeletons RULE OVER EVERYTHING! Lol!
Why why why is everything I had when I was a kid super rare and hard to find? These guys are amazing and worth the hunt! These guys definitely watched over my shelfs of monsters and held a high place of esteem in my heart!