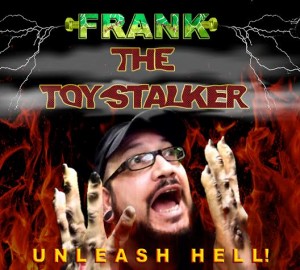 COUNT DRACULA Doll (Drac Bat) –  It really SUX! In a really GOOD way!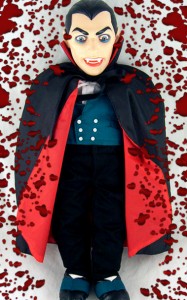 Released in 1985 by the Traveler Trading Company, this is a really cool doll for a later version plush.  I ALWAYS LOVED the face on this doll!! I wish the body was more than just plush, but I'll take what I can get!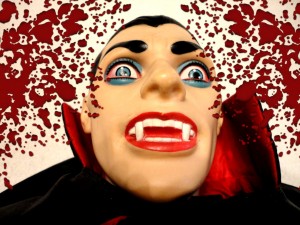 The head on Dracula is made of soft vinyl and it's KILLER!  Though It doesn't represent Bela Lugosi's portrayal of Dracula (nor is it supposed to), it really captures the classic vampire look. The fangs are in your face and apparent!  The pointy ears and slicked back black hair scream to me BLOODY VAMPIRE! The eyes (my fave) are wide with bloodlust and amazing color, beckoning you to come closer and stare into them! Very Vampire — Very FUN!
This doll always reminded me of the Dracula (Judd Hirsch) in The Night Dracula Saved the World and the Dracula (Henry Polic II) in Monster Squad, the TV Show.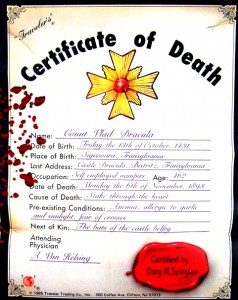 The doll came in an awesome cold and clammy coffin box with handles and a clear cellophane window, where you can clearly see the blood dripping doll you're about to get your hands on! The back of the box featured a cool flying Dracula leading a pack of bats through a ghoulish graveyard under dripping bloody letters! FUN FUN FUN!!!
For that extra bolt of FUN, Dracula's death certificate was also included.
The doll stands about 18″ tall and it really SUX! It's ready for blood sucking FUN right out of the box! It looks so very classic! I Love It!!!