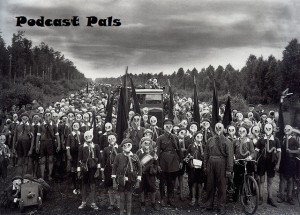 Movie Podcast Weekly – The crew of this podcast reviews at least one movie that was released the previous weekend every Monday.  Jason Pyles host with a slew of co-hosts and guest hosts.  Both Ron and Hammer have appeared on this podcast.
Terror Troop – Boss Butcher leads a cadre of misfits and miscreants through the land of B-horror movies.  The show has a regular rotations of co-hosts plus weekly guest hosts.
Land of the Creeps – Join Gregamortis, the Haddonfield Hatchet, Justin Beahm and a bevvy of guest hosts as they look at horror franchises/collections/continuities.
Attack of the Killer Podcast – Insane Mike and Jason Bolinger lead a cast of evil in talking all things horror, classic and contemporary.
Terror Transmission – A twice a month podcast that provides a commentary for a classic horror movie.  Starring Jason Andreasson and Mike Paradise.
Horror Movie Podcast – Every other Friday tune into this epic podcast to listen to host Jay of the Dead and his cast of creepy guest hosts (including Zombie 7's own Ron Martin) to go through several movies including new releases.
TV Guidance Counselor – Join Boston comedian Ken Reid as he and other comedians go through old TV Guide's and talk classic TV lineups with those in the industry including many of the people who lived through the actual shows!