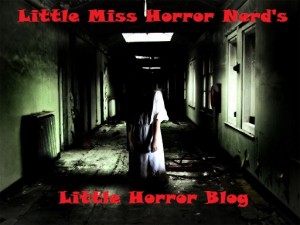 Have you been watching this amazing show called Hannibal? I have and I often need to check the channel while watching and then slap myself (Ed Note:  You slap yourself an awful lot.  You should get this checked out). Is this wonderful show with so many twisted, murderous characters actually on NBC? Hannibal now in its second season was created and is written by Bryan Fuller who also wrote Pushing Daisies and Dead Like Me.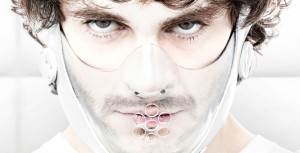 I had very low expectations for this show when it premiered last year. I was convinced it would be a total piece of garbage. Hannibal without Anthony Hopkins? Hannibal on NBC? Surely (Ed Note: Don't call me Shirley) this was a recipe for disaster. But like the horror obsessed lunatic that I am, I was I was hoping I was wrong and boy was I ever. This visually beautiful, dark, twisted, insane take on Thomas Harris's Hannibal Lecter books far exceeded every expectation I had and completely blew me away. I love tuning in each week to learn more and more about the inner workings and history of all these intriguing characters.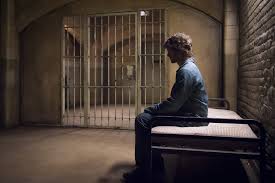 While I enjoyed the original books (which I read many years ago) my favorite character, Hannibal, was barely in Red Dragon and Silence of the Lambs. I am getting a Hannibal overdose now. I am very pleased with Bryan Fuller's take on these characters. It's a dign of a good writer who is able to do what he has done — take someone else's ideas and characters and make their stories better.
If I were being honest, while I read and liked Hannibal when it was first released that one kind of went off the rails. Thomas Harris seemed to have lost direction with these characters. He took them down a few roads I don't believe they would have ever gone down were they real people. Because of this, Hannibal the book ended up being bizarre (not in a good way) and disappointing overall. The movie wasn't much better. While I did like it in some respects, Hannibal had been turned into a comical cartoon character which didn't fit. He has a sense of humor but it is dry. This Hannibal was more like a stand up comedian whose hobby is murdering people.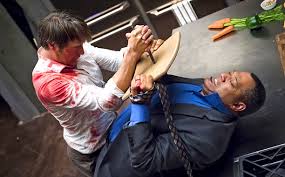 After this disaster (I never bothered with Hannibal Rising) I figured that someone had just come up with a new way to destroy these poor characters. I'm glad I was wrong. Not only is the writing and cinematography amazing but the casting is genius. I could never have imagined Lawrence Fishburn as Jack Crawford but it totally works. Mads Mikkelsen as Hannibal is undeniably creepy, formidable and sometimes sexy. I'd like to see him in the sack with some ladies instead of always eating them (Ed Note: I am totally going to refrain from comment on that one — but I do want it to be known that I do have comments).
I have also been enjoying the dynamic and relationship between Hannibal and his psychiatrist played by the drop dead gorgeous Gillian Anderson (how does this lady just get more and more beautiful with age?). She is chilling in her portrayal of Dr. Bedelia Du Maurier (Is this a nod to Daphne Du Maurier who wrote Rebecca?), Hannibal's shrink and friend. Their relationship reminds me a great deal of Hannibal's relationship with Clarice Starling in The Silence of the Lambs. Clarice knows Hannibal is a monster but she is still drawn to him. There is a heat between them but her discipline saves her from getting too close and perhaps losing both her mind and life. This is also true for Bedelia. The last scene on Episode 2 between Bedelia and Hannibal reminded me in some ways of the last scene between Clarice and Hannibal when she returns his drawings in The Silence of the Lambs. The scene between Hannibal and Bedelia scary and one of the creepiest scenes I have seen in a movie or TV show in a long time. I wasn't sure if he was going to kill her or fuck her (Ed Note: He's Hannibal Lecter — he can do both). Sadly, Gillian has her own show that premiered recently called Crisis so I'm not sure how much more of her we will see this season. Hopefully it will get canceled so we can have her back! (Ed Note: Way to cheerlead for one of your favorites)
We have one more thing to look forward to this season that hasn't materialized yet — the addition of Katharine Isabell to the cast. She will be playing a character from the book Hannibal and rumor has it, a possible love interest for the now incarcerated Will Graham. I cannot wait to see how it all plays out. There is no nudity so far in either season unless you get the hots for nude dead people and no obscene language. This is NBC after all. However, on a scale of one to ten the violence is a 100 (Ed Note: Hmmm…..you don't seem to understand how scales from 1 to 10 work). We all know how jarring nudity and curse words are, but hey bring that violence on it is not disturbing at all.
One piece of trivia the character of Freddy Lounds is played by a woman on the show but was played by the late Philip Seymour Hoffman in the 2002 film adaptation of Red Dragon.
LITTLE MISS HORROR NERD'S RATING: 5 out of 5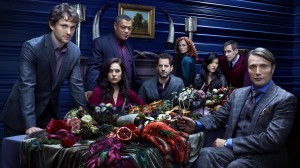 You can download and stream Season One of Hannibal exclusively from Amazon Prime for free. If not a Prime member, you can purchase the whole season or individual episodes. You can also catch up with season one if you have Comcast where it is available in the TV Show section for free.