The Bewitching Opening of American Horror Story:  Coven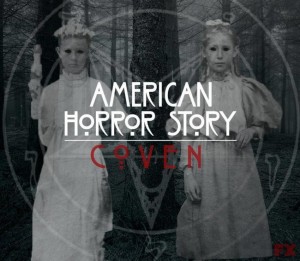 The first time I saw a commercial for Season One of this delightfully disturbing anthology series, I just knew I would love it. The first season, we had a house full of ghosts and secrets. Last year it was crazed killers, Nazi doctors, and a damaged nun. This year it is witches and the first episode started off with a bang!
As with past seasons, non-fiction has been mixed with fiction by interjecting historical figures as characters in the story. Over the past two seasons we have met historical figures like The Black Dahlia and Anne Frank.  Season Three give us Madame Delphine Lalaurie, and Marie Laveau. Season Three continues the tradition of jumping between past and present while it focuses on the story of a finishing school for modern day young witches juxtaposed with the story of some not-so-modern ladies from the early 1800s.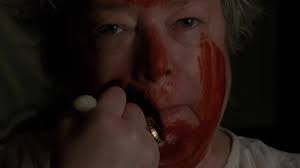 Madame Lalaurie was a well to do, Creole socialite who was married three times. Her last marriage was to a French doctor (who was actually a dentist) but set up practice claiming he could cure hunchback deformities. Madame Delphine had many slaves whom she starved, tortured and murdered. (Ed Note:  She also used her slaves in experiments and to hear them scream for her pleasure) Marie Laveau was a Louisiana Creole Voodoo priestess living in New Orleans. She was born free. I won't go into any additional detail so as not to spoil the episode for those who haven't watched it yet, but I recommend Googling these ladies for more backstory.
The first season, Murder House, was very dark. Asylum was gruesome and disturbing, Coven promises some of the same but also some (always welcome) dark humor. Trippy, wacky and over the top all came to mind while I watched the first episode of Coven. In my opinion American Horror Story is probably the best show on television that falls under the horror umbrella. Some reasons for this including superior acting and excellent writing but my favorite reason that it is an anthology series. One of the biggest problem with a typical television series is that after a few seasons there is generally no where to go with the characters and the whole thing just becomes tired and boring. Anthologies do not have this problem because every year it is fresh. I cannot wait to see how the story plays out with this cast of beautiful and talented ladies!  Even if you have not watched previous seasons start with this one. I gaurantee you will be hooked!
LITTLE MISS HORROR NERD'S RATING:  5/5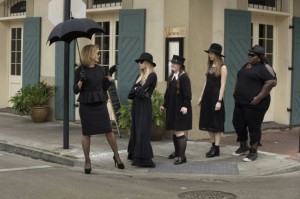 For more information on Madame Delphine LaLaurie click here.
For more information on Marie Laveau click here.