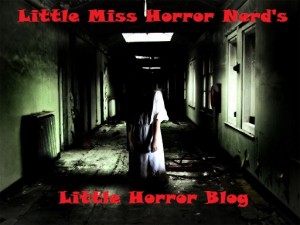 31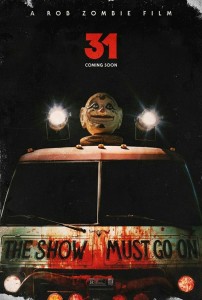 I am back! This time, I come to you with a review of Rob Zombie's newest movie, 31. I was looking forward to this movie as I'd heard it compared to Devil's Rejects.
The movie begins on October 31, 1976 and takes place within a span of approximately 15 hours. 31 follows a group of carnival workers on their way to their next gig. At some point along the way after dark they come upon a road block. The group determine it to possibly be some sort of voodoo and hop out of their camper to push it aside.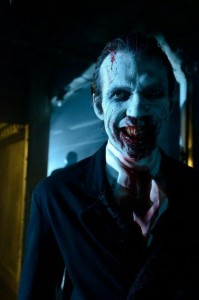 It's at this time that masked thugs come out of hiding and kidnap them. They are taken to a secret building where they have 12 hours to survive six assailants in a game called 31.
I'll stop here to avoid spoilers. 31 does have quite a few similarities to Devil's Rejects but they are by no means the same film. There is the carnival aspect but it's just what these characters do. There are clowns but they are non-traditional looking clowns. There is plenty of gore but 31 isn't nearly as brutal as Devil's Rejects. 31 was hypersexual compared to Devil's Rejects. It was full of boobs, shaved vaginas, and had a graphic sex scene. Hell, there was even a character named Sex-head!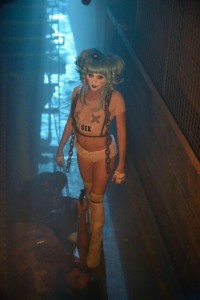 There were plenty of great actors and, of course, Sheri Moon Zombie. In my opinion, it was Richard Brake who stole this show. (Rob Zombie if you are reading this, Doomhead needs his own movie! He could be your version of Hannibal Lecter)
I thoroughly enjoyed this movie. It wasn't Devil's Rejects but it was a lot of fun. 31 is an action packed thrill ride full of boobs, blood, guts, vaginas, and the filthiest bathrooms I've ever seen in a public place!
LITTLE MISS HORROR NERD'S RATING:

3 1/2 out of 5

Check out 31 on VOD here!