Crystal Lake Memories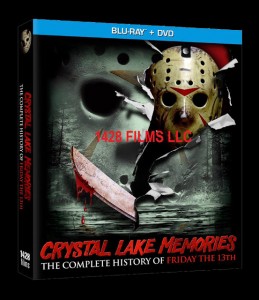 I'm sure anyone who is a die hard horror fan was patiently (or impatiently) awaiting the release of the new Friday the 13th documentary. Crystal Lake Memories was released, appropriately, on Friday, September 13th 2013 as a DVD/BluRay combo pack. The documentary itself was 7 hours long and because I pre-ordered I got a bonus disc with another 4 hours of material.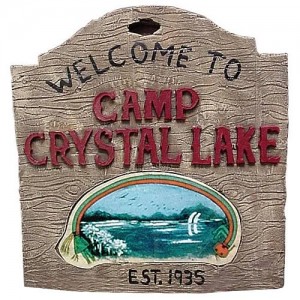 I love horror documentaries and was very excited to receive this. The documentary is narrated by Corey Feldman, who introduced us to Tommy Jarvis in Friday the 13th 4: The Final Chapter. The documentary is split into 12 chapters, one for each movie in the franchise. The 2-disc set covers Friday the 13th all the way through the 2009 remake, including Freddy vs. Jason. Even though it had little in common with the movies outside of it's name, Friday the 13th:The Series was included as well. Each chapter consists of interviews with cast, crew and director from that installment. The format is similar to the previous Friday the 13th documentary, His Name Is Jason.   I think they may have either reused interview footage of some of the actors or the actors just offered up the same anecdotes. I didn't necessarily mind this because there was a great deal more information offered up in this documentary with many more actors included. There were a few mainstream actors missing that I would like to have seen *cough* Crispin Glover Kevin Bacon *cough* but I guess I will live! There were many interesting tidbits regarding production, cast, and crew. As well as where they are now updates including who has passed away (sadly there were a few untimely deaths). I also love seeing how everyone has aged. Crystal Lake Memories will be an essential and excellent  addition to any horror fan's DVD collection and is well worth the $24.95 price tag.
LITTLE MISS HORROR NERD'S RATING: 4/5

For lists of deceased actors/crew from the Friday the 13th check out these partial lists here and here.
I also watched a short film by Rob Dimension, called Baggage .  Baggage is a 15 minute, black and white film about a normal guy who is not so normal. You might be able to catch this cool little film at a festival but  it will be playing alongside Trick r Treat on October 19 at The Frank Banko AleHouse Cinema in Bethlehem, Pa.
For details on this event and more information on Rob's other films go here 

Baggage can also be purchased here for $8 and includes a bonus short