Stitches and Satan's Little Helper:  Costumes that Kill!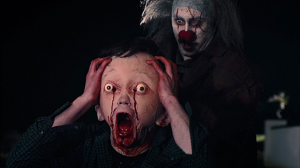 Stitches is an Irish horror-comedy released in Ireland in October 2012 It was released in the United States in April 2013. Ross Noble stars as Stitches the Clown, a hard drinking, rude, trashy guy who makes his living as a childrens' party clown. Stitches meets his match at one of these parties when the bratty kids play a joke on him that ends in his death. Fast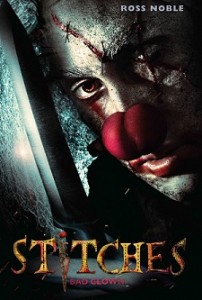 forward six years later and the same boy, Tom (played by Tommy Knight), is in high school and having his first birthday party since the one that killed the clown. The party gets under way and the kids are having a great time until an uninvited guest shows up (Ed note: Morty?). Stitches is back and he is looking for revenge! I loved this movie. It is so much fun. For starters, I can never get enough of an Irish brogue. Noble, an Irish stand up comedian, cast as Stitches was brilliant. He was definitely the star of the movie with his one liners.  The gore was over the top with buckets of blood and guts with original,  hilarious kills. I must also mention the excellent use of an 80s pop song in a film. And last but not least who doesn't love a killer clown?! If this is what Irish horror films are like I say "more please". Stitches is available to stream on Amazon for 3.99$.
LITTLE MISS HORROR NERD'S RATING: 4/5
Next up: a cute little horror-comedy called Satan's Little Helper. This film is not new. It premiered at The Tribeca Film festival in May 2004 and was released direct to video in October 2005. I stumbled over this film on Netflix while looking for another scary clown film to watch. I decided to take a chance on it because it had a number of positive reviews on Amazon. The story is set on Halloween and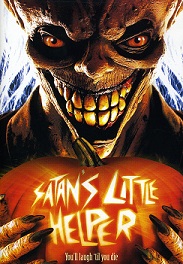 revolves around 9 year old Dougie (Alexander Brickell) who is waiting for his sister Jenna (Katheryn Winnick)  to return home from college to take him trick-or-treating. Dougie decides to go alone when he finds out his sister's boyfriend plans to tag along. While out collecting candy Dougie meets "Satan" and unwittingly becomes a serial killer's little helper (Ed Note: Haven't we all?). This is where the mayhem and giggles ensue.  "Satan" steals the movie. He never says a word but is super creepy and hilarious. This is by no means a serious horror film. Amongst the laughs there is some gore, some boobs and some creepy moments sprinkled in. I couldn't stop watching because I just HAD to know what "Satan" would do next (Ed Note: And the boobs help). This movie is available to stream on Netflix.
LITTLE MISS HORROR NERD'S RATING: 4/5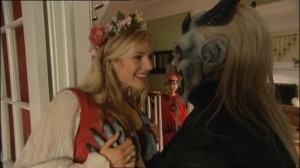 (Ed Note: For more clown horror goodness, try Klown Kamp Massacre)