All The Boys Love Mandy Lane….And So Do I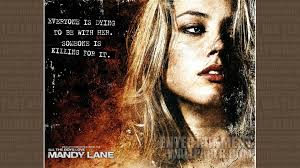 All the Boys Love Mandy Lane was released on VOD Friday, September 6, 2013 and gets a national release in theaters October 11th. This movie was shot back in 2006 when the star Amber Heard was just 20 years old. The movie went unreleased in North America after The Weinstein Company sold it to Senator Entertainment who promptly went out of business. The Weinstein Company announced in March that they had reacquired the rights to the movie and would release it in the fall.
The plot centers around Mandy Lane played by Heard. All the girls want to be Mandy Lane and all the boys want to be with her. Mandy, for her part, is very cool, aloof and has a male best friend who falls into the category of nerd/outcast. Early on in the movie one of her aspiring high school suitors actually dies trying to impress her. Fast forward nine months and Mandy is invited by the popular clique to a weekend party at which all the boys plan to make their move. Mandy says yes and it is at this point in the movie that things begin to go terribly wrong.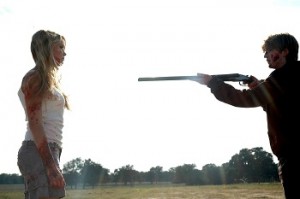 I think the reason I loved this movie is because I am a child of the 80s. I didn't start watching modern horror (anything released after 1969) until I was 13 or 14.  This was my mother's decision not mine. All the Boys Love Mandy Lane could have been set in any decade all the way through the 80s. The movie had no cell phones, computers, tablets, not even a cordless phone. Even the clothing and vehicles couldn't be placed in a specific decade. The music also gave it a definite retro feel. The only negative was that I figured out who the killer was about 30 minutes in. Overall, I thoroughly enjoyed this movie. I felt it had originality with a taste of familiarity. I rented from Comcast VOD for $9.99 but it is available on iTunes and Amazon.
LITTLE MISS HORROR NERD'S RATING:  5/5