CONJURING UP SCARES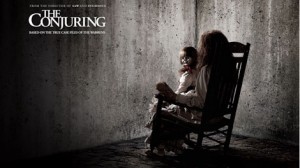 You've been bad, so this week it is just one movie, kids. The Conjuring was directed by James Wan and released to DVD and VOD October 18, 2013. The movie stars Patrick Wilson (Insidious) as Ed Warren and Vera Farmiga (Bates Motel) as Lorraine Warren, paranormal investigators of Amityville fame. The story revolves around Carolyn and Roger Perron played by Ron Livingston and Lily Taylor and their 5 daughters.
The Perron Family moved into a dilapidated Rhode Island farm house in 1971, where they immediately started experiencing paranormal disturbances. Carolyn Perron becomes very concerned for the safety of her children and tracks down The Warrens to beg them to investigate her home.


I was pleasantly surprised by this film. Usually, whenever a film is so heavily hyped I end up very disappointed. The Conjuring had a very solid story with some excellent jump scares. It was sort of a Poltergeist / Amityville Horror hybrid but with a better story and movie than Amityville (Ed Note: I hope you are speaking of the remake).  When evaluating a film that tells a ghost story,  I find the scariest and creepiest movies are the ones where you do not see the monster or if you do it is fleeting. I have never been particularly fearful of witches but this movie changed my mind to some degree.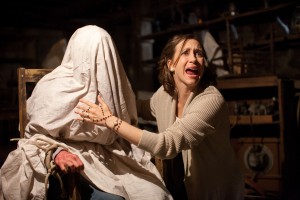 Creepy dolls, however, scare the life out of me (Ed Note: That would make you dead). Clown doll from Poltergeist anyone? The Conjuring had Annabelle a possessed doll who was absolutely terrifying. Sadly, she was a very small component of the story. If she had had a starring role, I think I would have had a great deal of difficulty sleeping the night I watched the film.
If you are looking for a body count this is not the film for you but if you liked Insidious, Poltergeist, Amityville Horror or even Sinister you will not be disappointed. There were one or two hokey scenes but overall a strong entry into the horror genre. The score was perfect and created excellent spooky atmosphere. I rented it for $4.99 from Comcast VOD.
LITTLE MISS HORROR NERD'S RATING: 4/5
Check out The Conjuring here.
For more information on Ed and Lorraine Warren, click here.
For more on the Perron Family and their haunting, click here.
For more on the Annabelle doll, click here.
To get Ron's take on The Conjuring, check out his guest appearance on a summer edition of Movie Podcast Weekly here.
Since I only have one movie for you this week, I am throwing one of my favorite scary novels.
Sleep No More – Greg Iles, published in 2001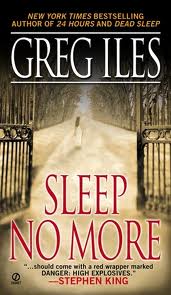 Sleep No More is the story of a man who was part of an obsessive love affair years prior to marrying his wife. He thought he had permanently escaped this woman when she disappeared and he thought killed. Just when he is happy, a beautiful stranger invades his life and knows things only his long dead girlfriend would know about their relationship.  Is his girlfriend back from the dead? If not who is this sinister stranger?  I loved this book. Obsessive love, possible reincarnation, murder! It doesn't get any better. This author is not a horror author and never wrote another book like it but check it out —  it is a real treat.