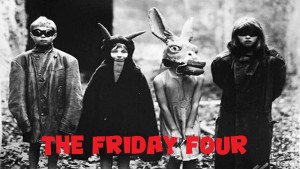 Welcome back to The Friday Four.
Last time we convened, I spoke of souvenirs I would want directly from the sets of horror movies.  This time, it's the same — but different.
We all (except Jessica) enjoy collecting things that remind us of our favorite horror movies. Some like movie posters, some collect action figures or autographs of people involved with the film.  Me?  I like a little bit of everything. Aside from a period from 200-2004 when I discovered eBay and decided I was going to collect anything and everything that the Scream logo on it, my collection has always been random.  Having subscribed to Horror Block for the better part of two years (have since cancelled for now), it's made my collection even more random and strange.  I'm a horror fan.  That's what you can tell from my collection.
Today, we are going to talk about some of that collection.  Not the best stuff.  Not my autographs from everyone who has played Jason Voorhees or my Night of the Living Dead poster signed by everyone involved with the film save for Duane Jones — nope, that's the best stuff I have.  We're not going to talk about the Universal Studios monsters collected from 1997 Burger King kids meals.
Today we're going to talk about just some oddball things I have picked up here and there over the years. I'm old, so I've had a lot of time to pick up some weird stuff. Today, let's talk about some oddballs.
FOUR ODD HORROR ITEMS I OWN
1. Dirt from the Graveyard Night of the Living Dead was filmed in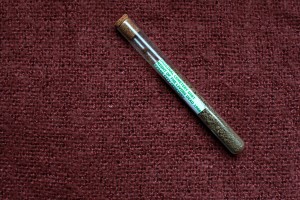 Flash back to 2003.  I was at my first horror convention, Cinema Wasteland in Cleveland, OH.  They were having a Night of the Living Dead reunion and I couldn't help myself but purchase a poster from one of the vendors and have everyone there sign it.
One of these people was Russell Streiner aka Johnny.  As in "They're coming to get you, Barbara," Johnny.  Russell took some offense at the poster I had purchased stating that it wasn't "licensed."  Seeing as Night of the Living Dead is public domain, I don't know how anything can be officially licensed, but I had already started getting autographs on the poster, so who was I to argue.
Because of my unlicensed poster, I'd have to purchase something from his table in order to get the autograph.  Luckily, Russell had several inexpensive items on his table, so I grabbed a combo a trading card with Johnny's image on it and a vial of dirt that is allegedly from the same graveyard where they filmed parts of the Night of the Living Dead.
I have no proof that it actually is, but Russell Streiner has never lied to me before.  Plus, he signed both my poster and the trading card, so there's that.
2. Omen/Alien soundtrack on record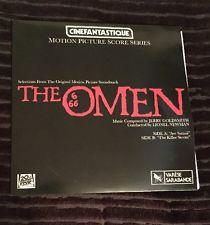 These were Horror Block items in what was a particularly good block that month. It sucks that the company it having so many problems now because they could send you some pretty cool stuff.
These are included on that list.  Why is it weird?  Well, who has a record player these days? I understand that vinyl is coming back.  Sony is making vinyls again and hipsters love them. Does hipster = horror fans?
Basically I own two small records that I can't play so they sit on a shelf in my office on display next to a 3D poster from A Nightmare on Elm Street and still in the shell coconut.  Long story about the coconut.
That's what makes it odd.
3. Scream rubber head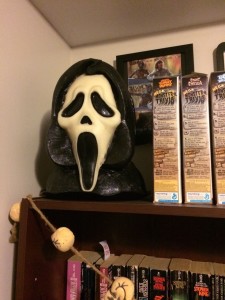 Remember way back in the beginning of the column when I talked about collecting all things Scream in the early parts of the 21st century?  Yeah, this is not from that era.  This is from a flea market.
I went on such an adventure a few years ago with a friend of mine. As I barreled through booth after booth, she took her time painstakingly looking at each shelf of mostly junk. She kept telling me that I wasn't looking for "hidden treasures."  That's when I looked over at a booth that contained mostly old pieces of wood that a sane person would just burn and saw this rubber Scream head staring back at me.
"Hidden Treasure," I said as I dumped it in the cart.
For three bucks I have this three pound rubber head of the Scream mask. Probably the best deal in my entire collection, but hell if I know why it was made.
4. Clothes allegedly worn by Sarah Michelle Gellar and Michelle Trachtenberg on Buffy the Vampire Slayer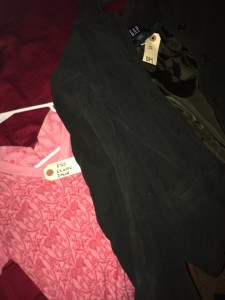 Remember when I said I got crazy with the collecting of Scream memorabilia? Same thing happened when I finally made through all the Buffy episodes circa 2007.  A fan of of the writing (through five seasons anyway) and the overall feel of the TV show, I went overboard in my fandom.
I didn't get as crazy as I did with the Scream stuff, but around the time FOX decided to auction off it's warehouse full of Buffy stuff via eBay. Some things were very cheap.  You could get a fake pear that hung out in a bowl in the background of the Summer's kitchen in some random season for like $15.  Some thing were very expensive.  You want one of the demon masks used on the show?  Be prepared to fork over several hundred dollars.  What I bought was just in the middle.
For $75 I received a black jacket from the GAP and a pink long-sleeved shirt that looks like it would fit only a nine-year-old.  They still have the production tags reading Buffy and Dawn, respectively.  This came from the extras collection. These would be random clothes the girls would have worn probably once in one scene for one episode to signify that it was a different day and that the characters actually do change clothes. Nothing recognizable.  Apparently, shows keep a warehouse full of clothes for their stars for just that purpose.
Seeing as these two items were in the same lot, it would make sense that they were at least used in the same season if not the same episode.  I should probably re-watch the episodes from the beginning of Season Five on (when Dawn first appeared) to see if I can find the clothes I own, but seasons six and seven are just so bad that I can't bring myself to do it. I guess it's possible these just sat on the racks and never even made their way onto the show.
Just my fucking luck.