Podcast: Play in new window | Download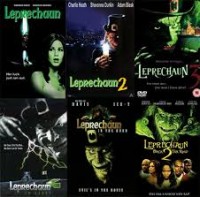 We are getting rid of the Leprechaun…for now.  Ron hosts the traditional wrap up show with guest appearances by Little Miss Horror Nerd for horror news and the Top Five Deaths in the Leprechaun series.  Also appearing is guest Heather, whom must answer for her sins of making everyone spend seven weeks on The Leprechaun movies! In the Leprechaun by the Numbers segment, you can learn how many times the Leprechaun lost his eye or how many bare chested women ran about the franchise.   What could have made the franchise better? Which movies have the most re-watchability?  Only one way to find out!
HORROR NEWS: Dracula's Castle, Stephen King Action Figure, Horror Buddies, Poltergeist remake
Get your Horror Buddy here!
Unfortunately, it seems as if SYFY has cracked down on old Ghost Hunters International episodes streaming for free.  Below is a preview of the Season One finale in which the team investigates Dracula's Castle.
http://www.bing.com/videos/watch/video/draculas-castle/17w3idyb2
Also, as a bonus, you can read Ron's review of the episode when he covered the show for 411mania right here.
Note: 411mania.com has since changed site hosts which has rendered the photos in the article to broken links.