Podcast: Play in new window | Download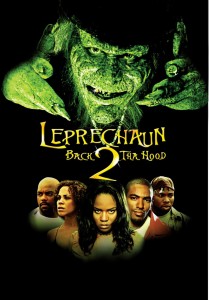 This week the all Irish posse puts the actual watching of more Leprechaun films behind them…..for now.  The Resurrection of Zombie 7 podcast's Leprechaun experts of Ron, Little Miss Horror Nerd and Clint the Lucky are back to take a look at the oddly titled Leprechaun 6: Leprechaun in the Hood 2 – Back to Da Hood!  In true Leprechaun fashion this movie has little to do with any of the previous films aside from being set in the hood.   Join the crew as they talk about the Leprechaun's dashing good looks, useless kills, the poor beating the Leprechaun's eye takes, the lack of boobs in the hood, Jamie as one of the funniest characters in the franchise, wrapping up the entire Friday the 13th series in this one Leprechaun movie, Leprechaun's ever changing powers, the decimation of Clint's multi-Leprechaun theory and the definition of a cocktease.
HORROR NEWS: Halloween 3D casting, Stephen King's Bad Little Kid, We Are Too Young to Die, Texas Chainsaw Massacre t-shirts and horror related shows on The CW.
To view the We Are Too Young to Die indiegogo fundraising site, click here.
To pre-order Texas Chainsaw Massacre shirts from Fright Rags, click here.