Podcast: Play in new window | Download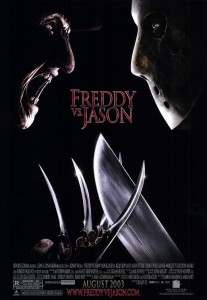 Just when you thought it was safe to go back to sleep…or to Crystal Lake…or listen to this podcast again, we present to you the nicely wrapped present to all 80s slasher horror fans in the form of Freddy vs. Jason.  Join Ron and guest co-host Little Miss Horror Nerd as they travel to Springwood, Ohio to talk about the cast of the movie, Little Miss Horror Nerd's hatred of Destiny's Child, nods to fans of both series, why Kane Hodder didn't get asked to play Jason Voorhees, Jason as a sympathetic character, raving in corn and the many disabilities of Jessica's cat.
Horror News: Save the Psycho House, Thomas Tessier's World of Hurt, Beetlejuice 2 and a horror screenplay contest.