Podcast: Play in new window | Download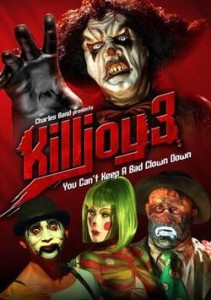 Do you ever find yourself stuck in a house with a college age virgin who won't put out while an evil demon clown and his minions try to lure you to their world through a mirror so they can baste you and eat you alive?  Yep, this old story again!  Join Ron, Little Miss Horror Nerd and special guest host Hammer as they fight the urge to go into the mirror while they walk everyone through Killjoy 3!  Killjoy is a bit different in this film than the previous two, Killjoy has minions and the story seems to be more comical than horror related, but that's a good thing!  How many times would Punchy punch is Punchy could punch wood?  Find out the answer to that and many more things but not why Jessica hates clowns — on this episode!
HORROR NEWS: Halloween Horror Nights adds The Shining, Scooby Doo/Supernatural crossover, Lovecraft Stories, First Annual Salem Horrorfest
Check out the schedule for Salem Horror Fest here!