Podcast: Play in new window | Download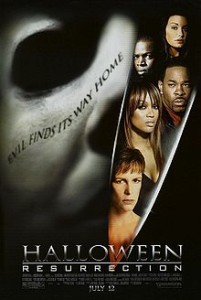 The time has come for the last movie in the Halloween franchise and it is a doozy.  Following continuity #2 (out of 3), Halloween Resurrection is a direct sequel to Halloween H2O, which is a direct sequel to Halloween 2, not Halloweens 3, 4, 5 or 6 — you dig?  Join Ron, Little Miss Horror Nerd and special first time guest Wolfman Josh as they trudge through the shit — both literal and metaphorical to try and make Halloween Resurrection entertaining.  Don't worry, Busta Rhymes gives his full approval. Topics discussed include the four different endings filmed for the movie, how the movie became the Busta Rhymes show, when characters to too one dimensional even for a slasher and the use of technology (and lack thereof) in horror films.
HORROR NEWS: Ecto Cooler, Hatchet in comic book form, The Deleted, The Crow reboot not happening
Check out more of Wolfman Josh on Horror Movie Podcast!