Podcast: Play in new window | Download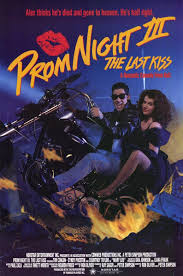 Why is Prom Night III called The Last Kiss?  After watching the movie and discussing it for over an hour, we are still trying to figure that out!  In  a touch of continuity, Mary Lou Maroney is back in Hamilton High but instead of seeking revenge and the Prom Queen title, she is out for some nookie and a Prom King.  Completely average Alex is more than happy to oblige because well….Mary Lou has big boobs.  Join Ron, Little Miss Horror Nerd and their Mystery Guest as they unravel the consequences of Mary Lou and Alex's actions. They mostly involve battery acid, banana splits and a homemade flamethrower.  This is the truth.  For those who stay until the end of the podcast — bonus zombie prom!!!!
Also on this show, a contest to win Gene DeRosa's 10-31:  A Trivia Book about the Halloween Franchise!  Email your answers to reszombie7@gmail.com to win! Otherwise, purchase Gene's book here.
HORROR NEWS: Tremors TV Series reboot, Shirtpunch news, how you can purchase rights to a couple of Return of the Living Dead movies, Universal courts big stars for their monster reboots
***SPOILER ALERT***
Below is information about this week's Mystery Guest….
BLOODY BRODIE!!
Check him out on The Blind Buy podcast.
Or on Twitter!