Podcast: Play in new window | Download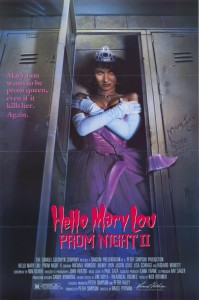 After you dig into that turkey but before you go into food coma, come join Ron, Little Miss Horror Nerd and their mystery guest to discuss all things Hello Mary Lou, Prom Night II.  Jamie Lee Curtis may be gone, but Mary Lou Maroney burst onto the scene with style — meaning she is a burnt corpse bursting out of the current prom queen.  It may be Thanksgiving in America, but put on your tuxedos and best dresses — we're going back to the prom, baby!  Bring the turkey with you because damn, turkey is good.
HORROR NEWS: Hocus Pocus 2, The Dark Tower casting, House remake, Alien toys
SPOILER ALERT!!!!
This week's mystery guest….
Darien Brock can be found on The Padded Room podcast!