Podcast: Play in new window | Download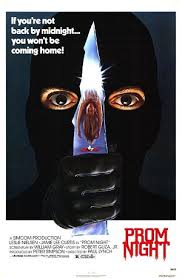 It's November and you know what that means — time to go to the prom?  We don't do stuff at normal times around here.  Anyhoo:
You are cordially invited to the 1980 prom of Hamilton High.  Attire is formal, but must be loose enough to disco dance the night away. Chaperones (including the police) will be present, but will conveniently look the other way if you want to have sex in a random room, smoke weed in a creeper van or if you would like to kill our students in a variety of rooms without hassle.  Don't worry, our top notch janitor will be on sight to take care of any blood stains.  This is a once in a lifetime opportunity to see Jamie Lee Curtis disco dance, with a special introduction by Lou, the local unibrow.
Ron, Little Miss Horror Nerd and the first of four mystery guests (as is our holiday time tradition) will guide you through the entire process, bare ass and all.
HORROR NEWS: American Horror Story renewed, Prometheus sequel issues and Empire of the Dead
SPOILER ALERT!!!!!
Below is information in regards to the Mystery Guest
"Dr. WALKING DEAD" KYLE BISHOP!!
Buy new book, How Zombies Conquered Pop Culture….right here!
Buy his old book, American Zombie Gothic….right here!
Follow him on Twitter…right here!
Dr. Walking Dead is a semi-regular guest on Jay of the Dead's Horror Movie Podcast!