Podcast: Play in new window | Download
We interrupt this podcast to bring you a very special episode….
WELCOME TO THE 200TH EPISODE OF THE RESURRECTION OF ZOMBIE 7 PODCAST!!!!!
In this super supersized episode of the podcast, hosts Ron Martin and Little Miss Horror Nerd invite on a bunch of regular guest hosts to take a look at the 1980s and 90s HORROR TRILOGY (not a franchise, but a trilogy!) Night of the Demons!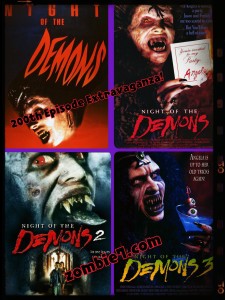 Included in between each segment are highlights from the past 100 episodes including clips from the coverage of the franchise for Alien, Amityville Horror, Child's Play, Children of the Corn, Frankenstein, House, Prom Night, Return of the Living Dead, Silent Night Deadly Night, The Crow, Tremors and The Wishmaster.
Night of the Demons (1988) – Ron and Little Miss Horror Nerd are joined by the original co-host of the podcast, Hammer, as they take a look at the campy demon film that started it all including stuffing lipstick in nipples, whether or not it's okay to sneak peeks at your siblings and one dimensional characters.
Night of the Demons 2 (1994) – Ron and Little Miss Horror Nerd are joined by Clint the Reckless and Darien Brock to run through the first sequel including invented Pussycam, the value of lipstick and the bitchiness of early Christine Taylor.
Night of the Demons 3 (1997) – Ron and Little Miss Horror Nerd are joined by members of the Canadian Horror House, Channy Dreadful and Mr. Universe as they power through the final movie in the trilogy including changing the rules, bad boys getting laid and how far a car can go without gas.
Check out Jay of the Dead, Dr. Shock and Wolfman Josh over at The Horror Movie Podcast!
You can find all things Darien Brock at The Padded Room Podcast!
For all Channy Dreadful goodness, like the Facebook page for the soon to be released on the public Channy Dreadful Reviews website.
You can capture the elusive Mr. Universe over at the Whedonverse Podcast where discussions of all thing Joss Whedon happen.