Podcast: Play in new window | Download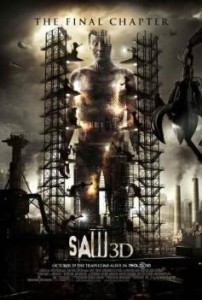 The Saw franchise is coming to an end and the police department of Washington DC could not be happier. Of course, they are all dead now so this is a moot point. Join Ron, Clint the Reckless and the Uncontrollable Willis Wheeler as they make their way through the final film (for now) in the Saw franchise and try to make some sense out of the millions of flashbacks and the endgames for Detective Hoffman and Jill Tuck. Little Miss Horror Nerd joins the show for a bout of horror news, as well! Topics discussed include the Saw franchises use of every trick in the book in order to confuse their viewers, what happens when you produce a record like Minutes to Midnight, Willis' whereabouts during some of the Jigsaw killings, plausibility of the traps and time frames, the uselessness of DC cops, the lack of heroes in the movie, the return of Dr. Gordon, Asian boobies and debunking the Saw/666 myth!
Horror News: Annabelle, Universal Monsters reboots and Sharknado Week on SYFY
Find Willis at Terror Troop and the No Fucking Way Podcast!