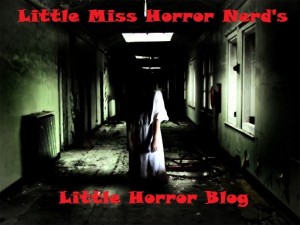 HAUTE TENSION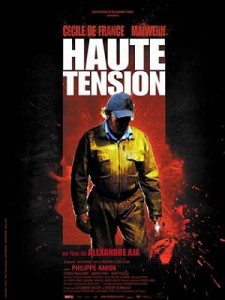 I know I am late to the party but for this week's blog, I watched Haute Tension directed by Alexandre Aja and released in 2005.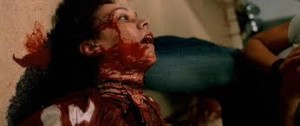 This oldie (Ed Note: Oldie?  2005? I literally have can good in my cabinet that I bought in 2005) but goodie was sitting on my DVR for awhile so I decided to give it a shot. I am glad I did! One of the first few scenes was the killer masturbating with a severed female head. The scene was so vile it drew me in.
The film revolves around two college friends, Alexa and Marie who vacation at Alexa's parent's farmhouse for the weekend. The girls arrive in the evening and as soon as the family goes to bed, a strange man arrives and begins to murder everyone.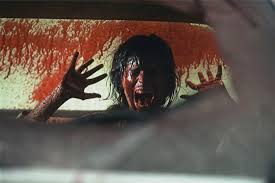 I've noticed in American horror films you often have to wait at least 40 minutes for anyone to be murdered. Well the French do not waste any time!  This film was violent from beginning to end. I do appreciate a slow burn, but action is what keeps me glued to the screen.
The version I watched was a mixture of dubbing and subtitles but it didn't matter. I actually think I could have watched this in French with no subtitles and I would have known exactly what happened because the movie was 90% visual. The movie itself had a very bleak look to it even during the day scenes. The look was similar to the original Texas Chainsaw Massacre. I hated the killer! I was so angry that he was killing everyone and getting away with it. To me, that means Philippe Nahon who played the killer did a great job! He reminded of a mortal version of Michael Myers in his jumpsuit, holding his knife, walking slowly but deliberately. He was terrifying and just despicable. The killer speaks very little during the film so this just adds to his mystique. Though I know absolutely nothing about French music, I thought the music choices lent a lot to mood and atmosphere.
Overall, I thoroughly enjoyed this movie. I thought the writers, director and actors got just about everything right. If you love blood and gore and want to be thrilled and chilled, this is the movie for you.
LITTLE MISS HORROR NERD'S RATING: 5 out of 5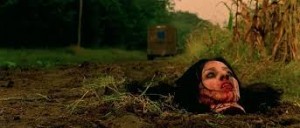 Now I need to watch Inside!
TRIVIA:
– The movie was shot in Romania for budgetary reasons.
– Alexandre Aja has said the death of Jimmy was modeled after the axe murder in The Shining.
– Alexandre Aja has said the scene where Marie hides from the killer in the gas station bathroom is an homage to the original Maniac.