Podcast: Play in new window | Download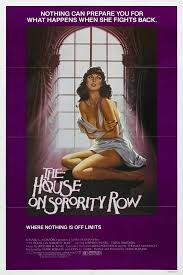 It's the time again.  Time where we take a break from our long term relationships with franchise horror and have a one night stand with a one off horror movie.  This particular one night stand is with the seven sorority girls from the 1983 film, The House on Sorority Row. Join Ron and Little Miss Horror Nerd as they discuss such things as Jessica's sordid past in her own sorority, how to keep a mongoloid child quiet in an attic, smashing police cars with dumpsters and fighting for your right to party!
HORROR NEWS: A Haunted Mansion documentary kickstarter, Stephen King warns fans about The Dark Tower, Indian horror, Friday the 13th TV series, the return of Ecto-Cooler
Check out and donate to Foolish Mortals: A Haunted Mansion Documentary here!