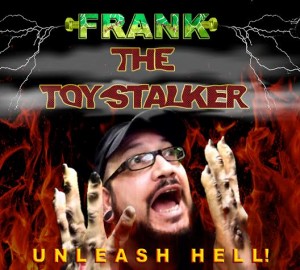 Though the costumes were a flimsy mess, I couldn't resist a monster costume made of day-glo paints and major FUN! I LOVED these things! I could easily become any creature I wanted! It was fast and it was little to no mess which made my mother super happy! My faves were the Ben Cooper costumes but I never strayed away from the Collegeville costumes either.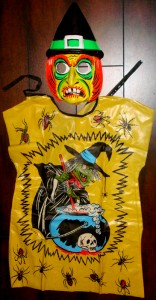 The body of these costumes were made out of a flimsy satin or plastic, the kind that went "whoosh, whoosh" when you walked. On it was a picture of a monster head with the name emblazoned above it in case you didn't recognize the monster or what movie it was from. The mask—a thin, brittle piece of plastic and day-glo colors—had two eyehole cutouts, two small nose-holes and a slight mouth slit for breathing. Only, it wasn't easy to breathe when wearing that mask. And the mask would steam up with a massive amount of sweat…..BUT THEY WERE THE BEST THINGS EVER!
Ben Cooper, the son of a restaurant owner who became a costume impresario, didn't invent the Halloween costume. But he and his company awakened generations of kids to the potential of what Halloween could be.
Halloween night I would run from neighborhood to neighborhood a sweaty ripped up mess as I would usually trip over somebody's giant rock in their yard and dump my treasures everywhere, but WOW was it FUN! Some of the best of times really! I feel bad for today's kids that don't get to experience that!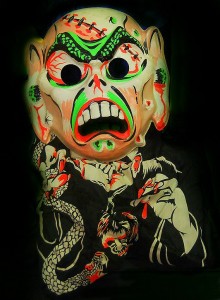 One old lady in a creepy old haunted looking house would always welcome me in along my Halloween route! I was scared to death which added to the excitement. I would enter her dark house and follow her down dark and creepy hallways. With my imagination reeling (she looked and sounded like a witch and she wasn't in costume), finally reaching an amazing smelling old kitchen where she had what seemed like hundreds of cool vintage Halloween bags stuffed with freshly made popcorn balls and plastic spiders, snakes and bats! IT ROCKED MY WORLD!
I LOVED and LOVE these costumes! After Halloween night I would add my costume to the wall of past costumes and eagerly wait for the next year to add to my collection on my wall and live the excitement of wearing these costumes again!