Podcast: Play in new window | Download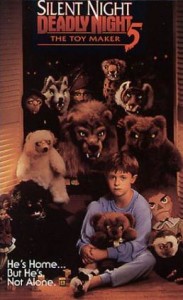 The cult of Lilith is behind us, but another Christmas Eve is upon us.  What will happen this year when Santa gets his hands on some toys made specifically for the naughty boys and girls in Silent Night Deadly Night 5 – The Toy Maker.  Join Ron and Little Miss Horror Nerd as they discuss Mickey Rooney's history with the franchise, what denotes a criminal and even what is the second best acted film in the series.  There is a lot to argue about — well, they argue a lot in this one, anyways. Is Silent Night Deadly Night 5 a worthy sequel?  What does Pinocchio have to do with all of this?  There's only one way to find out.
HORROR NEWS:  Stephen King short story collection in 2015, Sony hack, horror comedy anthology series coming to FOX
Check out the 99 Cent Network!