Podcast: Play in new window | Download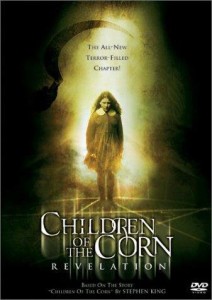 Hey zombies!  After a brief delay we are here to bring you the best and greatest moments of Children of the Corn 7 – Revelations.  Just kidding — that would be a ten minute long podcast, so instead join Ron and Little Miss Horror Nerd as they travel to Nebraska once again — this time Omaha — to seek out the adventures of the Children of the Corn.  Discussion about such topics as which of the cast members has been covered on the show before, Jessica's hatred of handicapped individuals, proper etiquette for off the clock strippers, House of the Dead, CGI corn and much more are discussed in this episode!
HORROR NEWS: Crite action figures, Halloween Horror Nights, Friday the 13th TV series
Check out The Padded Room Podcast!  Seriously, check it out because we owe Darien one!