The Haunted House Game from Ideal (1962)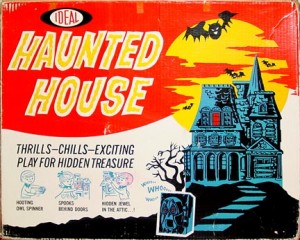 This was another game designed for Ideal by the great Marvin Glass and Associates. This was one of my favorite games, especially just the looks of it alone! The graphics are just insanely AMAZING! It fit perfectly with my interests in horror movies, Halloween, The Munsters and The Addams Family!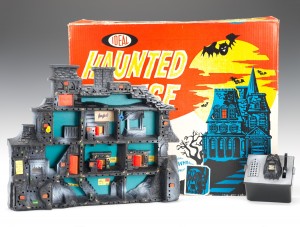 I can't even begin to tell you how many times I played this thing when I was younger… there was just something about it that clicked with me.
First you gotta LOVE LOVE LOVE the classic spine-chilling artwork on the box — everything about it just screams classic horror and excited every skeletal bone in my body!
The game has killer features like an owl spinner, spooks behind doors, Nosferatu and a hidden treasure in the attic!
The menacing black owl spinner was super cool and the gothic arched window around it made it look like horror-licious. When you pull down the lever on the owl spinner it actually hoots at you! … it's a hoot!
Nothing tops the actual game board itself! It's spook-tastic! I always dug how they made it look aged, almost to the point where it appears to be covered in dust and soot. And……as you can see, it's a twisty path all the way up to the attic where your journey through this insane madhouse is over. The main objective of the game is to get the jewel in the attic before the other players do. Along the way you'll encounter a hostile vat of creepy creatures and macabre monsters who will interfere with your progress all the way through the game! Soooooo Creep-tastic Sooooo Creep-mazing!
For more information on the Ideal Haunted House Game, check out this youtube video…
And this in depth review on how to play the game at i-Mockery!