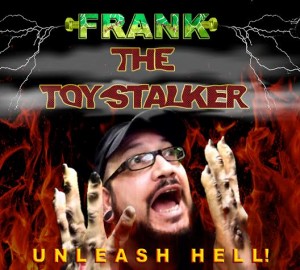 In honor of the Halloween season, we are doubling up toys the next two weeks!  Yay!  More joy for everyone!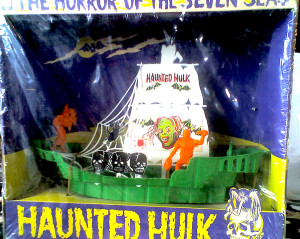 MPC Haunted Hulk Monster Ship
Loaded with a full complement of 8 different monsters from the1960s, this 11-inch long soft plastic ship is maddening!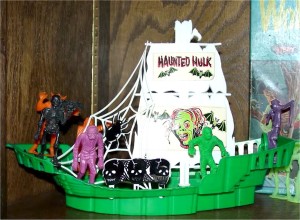 This green and white ship was so awesome and similar to the MPC pirate ships! This boat rocked my world! It set sail with every bath! Though it's from the secondary market (meaning not the big guys like Mattel and Ideal etc) and ultra cheap looking (I LOVE that stuff) it kept my mind busy for hour after ticking hour!
Load it up with the plastic horror creatures and push the slimy green hulk through the bubbles and all the crazy foam over the River Styx and to the Castle of Doom! KILLER FUN!
SWAMP TRAP PLAYSET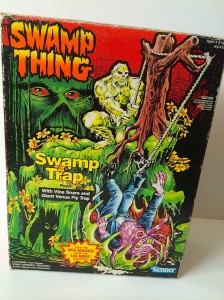 OK I LOVE LOVE LOVE the Swamp Thing! I always loved reading all the comics as a kid!
I equally LOVE this playset!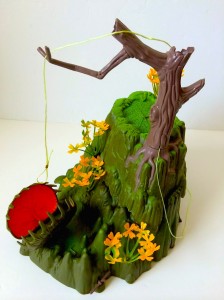 In association with the animated Swamp Thing series, Kenner produced a series of Swamp Thing action figures. There were six figures of Swampy, 4 villains, and two good guys. There were also a few vehicles and playsets.
The Swamp Trap Playset is simply KILLER!
This massive muck drenched mountain features incredible working action, awesome attention to detail, and plastic flowers! Who doesn't like bright plastic flowers and killer Venus Fly Traps? The giant flytrap at the base of the mountain waits luring you to lower in the villains. So AWESOME! Next there's an elevator, your standard up and down motion applies but still cool FUN and looking up from the bottom of the mountain at the top there is an AMAZING foam material that, as Swamp Thing rises, gives the illusion that he's actually coming up through the swamp. It is truly fascinating!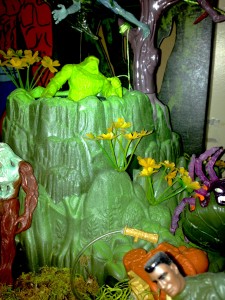 No, It doesn't light up and it doesn't make noise. This was back when playsets were filled with your vivid imagination, which meant it was to accompany your figures and heighten their playability factor.
What I LOVE about this playset is the hardcoreness of it. Swamp Thing feeding eco-enemies to giant venus fly traps and drowning them in quicksand. SO GREAT! and FUN!
Swamp Thing didn't play around. He used to tear peoples arms off if they littered!
This is one totally AWESOME playset!