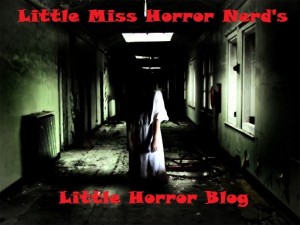 JERSEY SHORE MASSACRE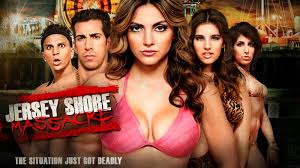 This week I have a treat for you! Earlier this week, I attended the world premiere of Jersey Shore Massacre in New York City.  Jenny "JWoww" Farley from MTV's Jersey Shore was an executive producer on the film.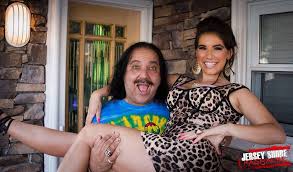 This was my first ever movie premiere and I had lots of fun. Everyone I met involved with the film was extremely nice and accommodating. I also had the pleasure of meeting the one and only Ron Jeremy. He was very approachable and very gracious. An all around nice guy who appreciates his fans especially the ladies! (ED Note:  Reports from the event tell me that he also smelled nice)
The story revolves around a group of six "Jersey Girls" who take a trip to the shore for the weekend. When they arrive, they discover there has been a mix up and their house has been rented to some other girls. Teresa, one of the six, offers up her uncle's cabin in the Pine Barrens. Once there, the girls and a group of fist-pumping Jersey dudes start getting picked off by a mysterious killer.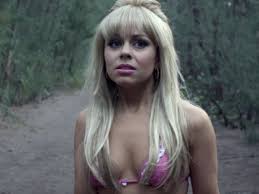 I won't go any further so as not to spoil anything. This fun, campy horror film was quite entertaining. Maybe more so because I was a big fan of MTVs Jersey Shore and watched every season! In my opinion this movie had all the ingredients to amuse —  stupid humor, cool kills and bare boobs for those boob connoisseurs out there. Let's not forget the devastatingly stupid cops!  There is even a very clever movie within a movie!
In my opinion, creative and gruesome kills are essential to a successful slasher. Here we had death by tanning bed, a spearing during sex and death by electric sander. Ouch! If you just want to check your brain at the door and be entertained, check out this fun film.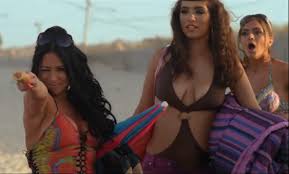 It will be available for purchase on August 26th and VOD platforms this Friday,  August 22nd.
You can pre-order on Amazon
LITTLE MISS HORROR NERD'S RATING:

3 out of 5

Side note: If you are a Howard Stern fan a few of his regulars have roles in the film.