Kenner Alien Action Figure

"IN SPACE, NO ONE CAN HEAR YOU SCREAM"
I have to say….one of the greatest monster designs of all time was the original Alien, designed by H.R. Giger. I just LOVE it! And love H.R. Giger! I will never forget sitting in the theater and seeing this film for the first time, it was so scary and exhilarating! Both the creature and the movie are consistently in my top ten lists!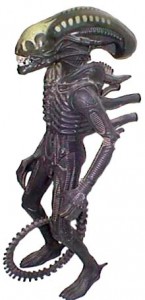 Simply one of the coolest vintage toys ever made, Kenners 1977 18 inch Alien Figure was So Great! It boasted an awesome and realistic sculpt and super scary protruding innner jaws! This thing looks like it could rip your face off right out of the box! No wonder parents in the 1970′s freaked out over this toy and had it pulled from the shelves! So sad!
This thing was the creepiest! so lifelike!! So AMAZING! Check out this video!!!
http://youtu.be/KMP6hs1SQZs
There were a few toys linked to the Alien franchise in the 70s; a dart gun set with targets; a very cool hand viewer that had a crank that when turned you could watch about 3 minutes of scenes from the movie — it even showed the scary Alien; a target set that had a gun that shot ping-pong balls at the Alien, and Alien Puzzles. There were four boxed puzzles released: the Space Jockey, the Nostromo, the Discovery, and a "Giant" 3 foot tall puzzle.
We've gotten a bum load of Alien toys over the years, but when Kenner produced an 18″ Alien figure based on the creature from the very R rated film that parents loved to freak out about, they pushed so many boundaries and created a popular and killer collectible for life!