Universal Monsters: Soaky Bubble Bath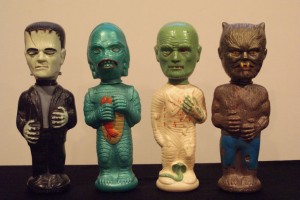 During the 1960s, Colgate Palmolive sold liquid bubble bath in plastic containers shaped like popular cartoon characters. Colgate called the product a "Soaky," as indicated on the bottom of each 11-ounce container. In 1963, they created Universal Monsters versions including Frankenstein, the Creature From the Black Lagoon, the Wolf Man and the Mummy.  Why they didn't produce a Dracula is kind of a mystery. Soaky bubble bath not only frightened children but also kept them clean.
As you can surely guess, I couldn't get enough of these guys! I wish I had the common sense at the time to keep my millions of empty containers! One thing I hated was bath time but I learned to love it with the all the monsters from Crazy Foam and these Cool Bubble Bath Bad Boyz!
Bath time was indeed haunt time and killer monster time! This Bubble bath was FUN FUN FUN in the tub and also, once empty these bottles provided hours and hours of FUN!
Bubble Bubble Toyland Trouble, Double, double toil and trouble; Fire burn, and cauldron bubble!