Podcast: Play in new window | Download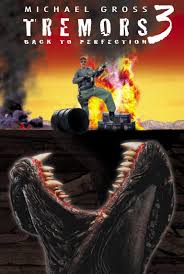 Graboids, Shriekers and Ass Blasters — oh my! We are headed back to the homefront of Perfection, Nevada as Burt Gummer makes his triumphant return only to find more problems than a saucy redheaded country music singer. Join Ron and Little Miss Horror Nerd as they discuss Tremors 3: Back to Perfection.  Along the way, there will be talk of everything from Jessica's unwillingness to survive in a survival situation, the intelligence of Ass Blasters vs. Graboids, the downfall of Miguel, the return of the main characters from the first film and Perfection as a tourist location.
HORROR NEWS: The sale of the estate of Morgan Creek Productions including remake rights to The Exorcist, Garfield's Halloween Adventures shirts, documentary on A Nightmare on Elm Street 2
Get your Garfield's Halloween Adventure shirts on this site.
Donate to the kickstarter for Scream, Queen! My Nightmare on Elm Street!  right here!